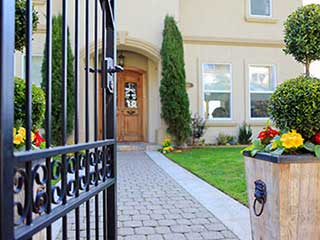 In case of any kind of problem with your gate system, let us at Gate Repair Frisco take care of it for you! Our company provides a full range of professional services including repair, replacement and maintenance. In case of an emergency, count on us to help you out quickly. By using our long-term experience and keeping up to date with the latest industry trends, we are able to service absolutely all types of electric gates. The design, make and brand are completely irrelevant when it comes to receiving an expert solution of the highest quality.
Delivering the Ideal Outcome Swiftly
When you notice even the smallest signs of malfunction, you should turn to us right away to get the problem resolved fast. Our company has everything required to provide excellent repair services. All of our technicians are familiar with all of the latest innovations in our professional field and especially in the niche of openers. Whether you have the latest sliding or swing gate operator and it is giving you a hard time, it will be fixed perfectly in the shortest time. The fine electronic components are handled with the utmost care. Our technologically advanced tools enable us to achieve the highest degree of precision.
Any Repair You Need!
When you hire our team, you can expect the perfect gate wheels or hinge welding repair. When the component is extensively damaged or worn-out or completely broken, it will be replaced with a new one. All of our spare parts are of top quality. They are chosen for their perfect functionality and are of great strength and durability. This is true for both the hardware parts as well as the openers.
Projects affecting the entire unit, such as a rotten gate repair, are well organized so that the work is completed within the shortest possible time. In this case, only the best filling, sealing and protective materials will be used. The professionals of Gate Repair Frisco always go one step further to ensure that the customer enjoys lasting results. In this case, the restored wood panels are painted with weather-resistant paint to ensure that they are effectively protected from the elements.
Count on Us at Gate Repair Frisco!
When you use the services of our company, you can expect:
Fast assistance - Waiting times are reduced to the minimum
Comprehensive solutions - The issue is eliminated completely and the result is long-lasting.
Expert advice - Our technicians will give you all the explanations and guidance that you require.
Contact us today for any question or problem! We offer same day services in the local area, and there is no problem we can't handle for you!