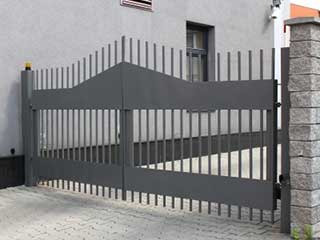 The first thing you see when you get home, and the first thing that any visitor will see, is your driveway gate. A tired, dilapidated gate doesn't provide a great first impression. It also won't keep out intruders as well as a strong, custom-designed gate that perfectly fits your property. Choose from our range of gorgeous driveway gates in a huge number of different styles. Our designs include steel and iron gates, as well as wooden gates. All of our products are customizable, and we offer an amazing selection of ways to make your driveway gate truly your own. Speak with the experts at Gate Repair Frisco today to see how little a new entrance could cost you.
Repairing Gates For Driveways Quickly
Has your driveway gate stopped working? Is it jammed shut, preventing you from getting in and out of your home? Or is it impossible to close, leaving your home exposed to intruders? We offer a range of solutions to all of these problems, thanks to our highly-experienced team of technicians. Our Frisco-based experts work fast to solve urgent problems like this, and we also offer great deals on driveway gate maintenance. We help you to avoid issues such as rotting wooden gates or corroding iron gates thanks to our regular maintenance services. Get in touch with us to find out more.
New Driveway Gates - Low Prices
Our premium range of custom driveway gates cost much less than you might imagine. Thanks to our emphasis on top-quality products, we offer an amazing range of entranceways at discount prices. That means you can easily find a swing gate or sliding gate that perfectly matches your requirements without breaking the bank. Choose from a range of different designs in steel, iron, and wood, as well as other options such as chain link gates. Our Frisco-based team is always ready to provide more information, so just get in touch today for your free quote.
Amazing Deals On Gate Installation in Frisco
Sometimes homeowners can be stung when they install a new gate. Companies might forget to mention the cost of installation when they quote for their work, leaving customers with a higher bill than they expect. Not us, though. We pride ourselves on offering industry-leading installation services at a low price, and we're always upfront with our costs. Our team works quickly, too, so you'll get your new gate installed with the minimum disruption possible.
Local Driveway Gate Technicians Near You
Just because our range of driveway gates looks amazing doesn't mean the prices are high. You'll be surprised at just how affordable our custom gate and fence designs turn out. Find out today how little it could cost to upgrade your Frisco driveway gate. Simply contact us for a free estimate and consultation and choose the materials and style best suited to your budget and needs. Already own a driveway gate and need repairs done? With a single phone call, you can have a technician over today.