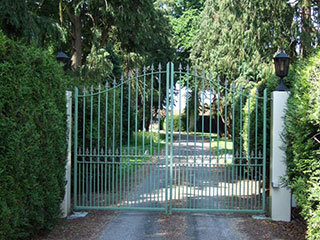 When it comes to choosing a new gate to have on your driveway or in your garden there are a few important aspects to consider. Here we take a look at some of the most popular designs and materials available, along with a look at the advantages of having an automatic opener attached. We hope this brief introduction helps you choose the perfect gate for your home!
Residential Gate Designs
Residential gates are typically one of two core designs. These are sliding gates and swing gates. Swing gates offer a traditional look and are most commonly made with steel or wooden frames. To have a swing gate you need a significant amount of free space around the gates position to allow the frame to complete its rotation. Sliding gates can require less room in front and behind the gate as they open from side to side. The frame can be made into panels which can fold or roll up as the gate is opened to be even more space efficient.
Comparing Materials
Wood is natural and offers a charming aesthetic. Because it is natural it tends to require more maintenance. It is very important to keep the paint or varnish on an outdoor wooden surface intact, otherwise the wood can degrade rapidly with rotting. Steel and aluminum can be the most affordable options as they are widely available and efficient in terms of their strength to weight ratio. Cast Iron is hugely popular for its long lasting durability when treated correctly, and of course for its traditional look. If you are looking for the most secure residential gate, it's hard to beat the sheer strength and deterring nature of sheet steel.
Automatic Gates and Openers
Automatic residential gate openers and remote gate designs are increasingly popular for their convenience and practical benefits. Gate opener models can be found to suit almost any design of driveway or garden gate. The best residential gate openers can be programmed to activate from your smartphone, and can feature sophisticated sensors that detect and prevent collisions.
Residential Gates Services
Gate Repair Frisco offer expert installation and repair for all designs of residential gate. We can help ensure your gate is perfectly installed to meet your needs and circumstances.
Call us today for more information or to have one of your friendly technicians pay you a visit.