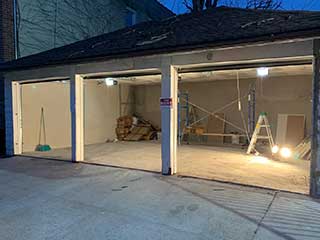 Our team specializes repairing, installing and troubleshooting gates – but you can also count on us whenever you're having trouble with your garage door as well! Read on to learn more.
Count On Our Experts
Your garage door is more complicated than you may realize! Not only does it make up a big portion of the front of your house, but it helps to keep your belongings safe. This is why you need your door to be reliable, and be able to lift and lower when you need it to without fail. If you notice any issues with your door, such as slowness or damage that's occurred to the outside of it, get it taken care of now to avoid it worsening later! Our professionals can help get it repaired and working in no time.
Offer Roller Repairs & Replacements
The rollers are located in the tracks of your garage door and are what help it slide smoothly along to open and close. If you've found that it's started to drag more and slow down, the issue may be with the rollers. Over time they can get worn, or even rust from moisture getting in. Don't worry! We can assist you. We'll safely clamp the door in place before opening up the tracks to take a look and see if the rollers simply need repairs, or to be replaced entirely. If the latter is required, we use the best parts available, so they'll last you for a long time.
Have A Broken Panel?
We can assist you with that too! Whether from an accidental bump with the car or otherwise, we can get it looking like nothing ever happened. For smaller damages our professionals can provide repairs that will get the panel looking like new again. Larger issues like cracks will require removing the panel entirely to replace it. We'll find one of the perfect size and color and it'll be done in no time!
Contact Our Team Today
Call Gate Repair Frisco now to find out how we can get your garage door working quickly and easily again. You'll be glad that you did!