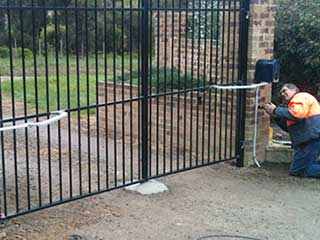 To add security, privacy, and beauty to your Frisco driveway, choose a custom gate from our impressive range. We supply and install gates to suit any home. Our range includes gorgeous wrought-iron gates as well as tough, lightweight chain link gates. You can design your own custom wooden gate or pick the perfect steel driveway gate. We offer all of this as well as best-in-class gate installation throughout the local area. Our selection of top-quality materials and custom design options means you can find something to suit your needs and budget with zero effort. As the leading gate installers near Frisco, we're always happy to give free quotes and information to any inquiring customer.
Cheap Deals For Steel Gates
Our selection of steel gates and fences gives you everything you need to protect your property. Steel is an excellent material that is hard to damage and is relatively light. Steel is a heavy metal, weighing about the same as iron, but because it can be rolled thinner it tends to create a lighter gate overall. This makes it cheaper and easier to install. However, bear in mind that a steel gate tends not to block line of sight as well as gates with solid panels.
Low Cost Wooden Gates
Bring a little bit of classic appeal to your property with a custom wooden entranceway. Impress visitors to your home with beautiful real timber, and benefit from the improved privacy that this gives your home. Wood is a wonderful material because it's easy to work with. This lets us create an amazing range of custom designs, including large panels and pickets that cut off line of sight. That means you can keep out nosy neighbors with ease, giving you a little more privacy at home. Wood needs regular maintenance, though, to prevent moisture seeping in and causing rot or warping.
Custom Iron Gates For Frisco Driveways
Make a great first impression with your own custom iron gates. The driveway says a lot about the property. It's the first thing people see. So having a good-looking gate in the driveway will speak volumes about you before visitors ever set foot inside your home or business. We provide everything you need to install classic-looking wrought-iron gates at your property, which introduce an undeniable touch of class. It's very impressive to drive into a Frisco driveway with such an entrance. Iron gates give a certain prestigious style with their wrought designs. They can elevate the property's value significantly, or at the very least improve its curb appeal. As with all metals, it's essential to protect iron against corrosion. But when the gate installation is done right, and the coating applied correctly, you can expect a long and happy life out of your iron driveway gate.
Get a Free Gate Installation Estimate Today
We've been installing gates in the Frisco area for years, and we know exactly how to provide a long-lasting and great-looking product. Our experts will help you pick out the perfect new custom gate for your home or business. All you need to do is tell us what you're looking for. Getting started is easy as dialing your phone. Give us a call and schedule a free estimate, and have one of our local gate installation experts meet you to provide all the info you want.